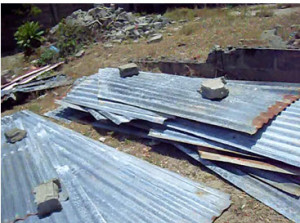 Who knew?
Actually, my aunt, Ketcha had warned me. "Don't give away your old zinc!" she said. "There's a man that comes around in a truck on Friday. He will buy it from you! Those people! Those people will all come around asking for a piece or two. Don't give it away! Sell it to that man! He comes every Friday! He'll buy it from you. Okay." That's what Ketcha told me, with as much passion in her voice as I have noted by punctuation.
It turns out that what passed as variously rusted sheets of tin roofing (laminas) are as good as gold in these parts. My first evidence this morning was when I visited my cousin's very fancy house in Santa Fe. Her walls looked awful. Water spots everywhere, many cracks and even a few missing chunks. The ceilings here are 24"x48" panels. There was a prominently missing panel adjacent to the fancy ceiling fan in the middle of the room. The remaining panels in the room were sagging, and the crown molding was leaning this way and that. It turns out that her roof had leaked for years. My roof was at least five years away from that level of deterioration.
True to my aunt's admonition. The day that the roofers came to measure, my next door neighbor, Edna, whispered to me, "Let's talk about those laminas. Not now, later, okay? I need a few for my kitchen. In the rainy season it's really hard to cook." Edna's kitchen is a clay stove just outside her back door a few feet across from the multi-surface cistern that serves as her water tank, washtub for clothes, kitchen sink, food preparation counter top, and baby bath. Three years ago, the new kitchen had a thatched roof, as did the house. The kitchen is now covered by old zinc sheets supported on a few sturdy branches cut from hardy trees. It is open on all sides; one side being ocean facing. I have watched Edna cook on a windy, rainy day. The flames dance and peek around her rustic cookware. Yes, the kitchen can, indeed, use some shelter from the storms.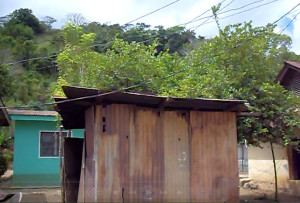 As the work got started on my roof, people stopped me on the street to ask if I would be selling the laminas, or how much I'd be charging. Some just asked me to save them a few. Neighbors and friends, indios from the surrounding mountains, even the lady who walks through town selling tortillas every evening stopped by. "Save me five," she whispered in a hushed voice and a huge smile. She had never spoken to me before, never stopped by my house with her delicious tortillas. I only got to purchase them when I happened to be at my sister's house when she stopped by with her basket of goodies.
I said "You know they're not perfect? They have holes, you know."
"I know, but save me five, please."
My favorite inquirer was a man on a very big saddled horse. He wore a big white cowboy hat and a Bowie tie – lanyard thing. He looked like someone from a 1940s ranchera movie – kind of like a Mexican Marlboro man.
I had no idea what a fair price would be for a zinc roof sheet. I asked a long-time friend, Tonia. "It depends. Some people sell for 50 (lempira – about $2.50). Sometimes they go for 25 or for 30." When I say friend, I mean sort of; not the life-long, trusted opinion kind, but rather the hang out on the porch or play some BINGO neighbor kind. I just needed to get some scope of the market. l had paid about $10 to $15 for the laminas when they were brand new. I asked my sister. "It depends," she said. "On what?" "It depends." "Is 40 or 50 a good price?" "It depends."
I was not out to get top dollar for the laminas. Until my aunt's admonition, my concern had been how to dispose of them in an ecologically sound manner. I passed Tonia on the way back from my sister's house. "I think I'll have an auction," I said.
"Auction! Who ever heard of auctioning laminas? That's not done." Her tone punctuated her statement with an unspoken, "Dummy!"
The Mexican Marlboro man came by twice. The first time I told him that many people wanted the laminas. "Will you take 25 lempira for each?" he asked, ignoring my response.
"I don't know what they're worth," I replied.
"Let's make a deal. I'll take all of them for 25 each. "Some of them are not that good, but I'll take them anyway." Let's say 30 each," he insisted.
"Thank you. I'm still deciding how to sell them in a way that is fair to everyone. Everybody wants some. I'll decide when all of them are down and I can see them better."
"When will that be?"
"Monday. They should be down by Monday noon."
Early Monday afternoon, Mexican Marlboro man comes riding up on his big horse. "Buen dia."
"Hola."
"It's really hot today."
"Yes, and humid too," I said
Pause. Clear throat. Pause – all the while smiling broadly. "Have you decided?"
"Excuse me?" "Oh, you're the man who wanted the laminas."
"Si, have you decided how much you want for them?"
"I've decided to have an auction."
"Okay, when?"
"Tomorrow."
"I'll be here," he said as he rode off.
On Monday afternoon I walked around town with sheets of paper folded to look like envelopes, a pen, and a bag. I approached each person who had inquired about the laminas and told them that I would auction the laminas on Tuesday, while offering a paper and pen. Most looked at me quizzically. I explained how the auction would work. Each person would put their name, the number of laminas, and the amount they would pay for each. On midday Tuesday, I would open the bids. The person who bid most would choose first. Then the next highest would choose, and so on. Most people just did not get the notion of a Dutch auction. Some people responded with, some variation of "How can I tell you how much I'll pay for the laminas! They're your laminas. Tell me when you decide how much you want for them." Most people said some variation of, "I don't have any money," followed by a wordy explanation. Their offers to buy and requests to save them some were made to alert me that they wanted to get some free laminas when I got around to giving them away. I said, "Are you sure? You can write two, three, or even one Lempira if you want. There might be some left that you can have for that price." None of them took me up on my offer. Those were the people that my aunt had warned me about.
Others just did not grasp the concept, no matter how many times I repeated it or how many examples I gave. The tortilla lady shyly admitted that she did not write. I gave her the paper and told her to ask someone else write it for her and bring it back. I got three offers for a total of 11 laminas ranging from 100 to 30 Lempira.
The next day the 50 Lempira lady came by just as I was settling into my hammock for my mid-morning nap. "Can I take my five?" she asked. "Priscilla outbid you. I said, "She gets to pick first. Wait here while I go get her."
As I walked back from Priscilla's house, bag and sheets in hand, Yency asked, "I heard you have laminas to sell."
"Yes. Are you interested?"
"How much are they?"
I explained the auction and offered him a faux envelope and pen, "I'm doing it now. Priscilla is on her way. Other people are waiting. You still have time to bid."
"No, not at the present moment," he said, as he rose from his bench to walk along with me.
Priscilla arrived and selected a perfect sheet. I had replaced a few really pitted ones last year. At 100 Lempira, she saved 200 Lempira off the price at the hardware store. She was delighted. Next the 50 Lempira lady took her five nearly perfect ones. As she picked, a couple of people asked why she was picking after Priscilla. She explained. They exclaimed, "ohhhhh!" as they finally got it.
I went around to find the 30 Lempira lady. "Oh, please forgive me. The chimbo man came and I gave him the money I had. (A chimbo is natural gas used for cooking) I interrupted what I imagined was a setup for a request for credit with a, "Oh, that's no problem. I understand. There's plenty of laminas. Come buy when you have some money. I'm sure there will be some left. You'll just have a later pick. I have to get back to the next person on my list." If you've kept count, gentle reader, you know that there was no next person.
As I got back to my porch, Yolanda came by. "Hey! Give me one of those pieces of paper! I heard you have sheets of paper. I want to buy laminas," she huffed. Yolanda is a plus sized woman. She must have run when she saw people walking away with laminas.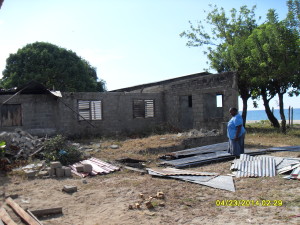 "You don't need the paper. That part's over. Take a look. Let me know how many you want to buy and how much you want to pay."
"I have a hundred Lempira. How many can I get?"
"Take a look and make me a fair offer."
She handed me the money and went through the pile.
"I've set aside four. Is that all right?"
"Take another," I said, rewarding her honesty.
"Oh, thank you! I really needed these. My roof is really bad. Thank you! I'll send someone to pick them up. They're over there. Don't let anyone take them! I'm so glad I got these"
"Tell the tortilla lady!" I shouted as she rushed off.
A voice approaching from inside the house got closer. It was Angi, my cleaning lady asking, "Are you selling the laminas?"
"Yes, do you need some?"
"Siiiii! When it rains, you should see how it just pours down in the place I'm living." She demonstrated the pouring rain as she spoke.
"Oh, I wish you had said something earlier. You never asked. … Call your husband and get him to pick some up. While he's here, he can help us move the furniture around."
My suspicion that she had not asked because she didn't have money to buy was reinforced when she asked, "Do you have any saldo left on your phone? (Saldo is money available left for making calls on the pre-paid cell phones.) My phone is all out."
I handed her my phone.
As we talked, the tortilla lady showed up with a young man. "Can we buy some laminas now?"
"Sure. Pick out what you want and tell me how much you want to pay."
The pair picked carefully through the pile, selecting and substituting.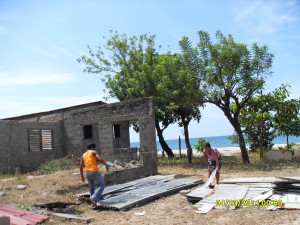 "I've picked five. How much?" Margarita, the tortilla lady, was one of the people who had insisted that I set the price for the laminas. I caved. "Twenty-five."
"We'll take two more." She said. She explained that she was going to make a kitchen. Two more would make it really nice.
I was happy to make her so happy. She handed me 200 Lempira. I had no fives. I gave her 30 and asked her to please stop by with some tortillas. She agreed.
Angi's husband showed up a few minutes later. "Go pick out what you want," I said.
"Did you find any you wanted?" I asked as they walked up to the porch. Yes they are right there.
"Okay. Let's go move the furniture."
It took about 15 minutes.
"Thank you," I said when we were done. "Go ahead and take the laminas. Is that okay?"
Big huge smiles and a quick scurry out to take the sheets away.
When I returned to the porch, Yolanda was waiting. "I want five more laminas," she said. "I prayed," she looked up at the sky, "and somebody came and bought a dinner. Now I can buy five more." She launched deep into a story of exactly why she needed the laminas. I was moved.
As she selected, Yolanda's friend came by. As she helped Yolanda select, the friend said "Oh, these are the really good ones. The old ones back when they were thick." She looked up at me and said, "Save me five. I'll be back them for them tomorrow."
"Bring money. First come, first served."
"Pisto primero (money first)," she said as she laughed and motioned to her genital area.
I have heard the expression throughout my entire life. This was the first time that I understood its crude etymology. That's just one of the things that I learned today. I be keenly aware of what a blessed life I have. I am realizing more and more keenly, moment by moment how much I take so much for granted. I have been worried about my leaking roof for a couple of years. One of the reasons I gave myself for leaving my job at this particular time was to come tend to my house on the beach. I reasoned that the value of my house surpassed the money I would have to earn to replace it. Earlier this week I learned that the rain that poured in when tarps served as my roof one night cause no permanent damage. Today I learned what a truly minor inconvenience that was. People here live with that kind of interior downpour all of the time. They are happy to pay to take my castoffs to slow the rain down to a gentle trickle.
I truly am prosperous beyond words.
Here is a picture of my new Aluzinc, corrosion-resistant roof.